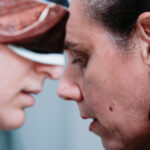 Hello, welcome. I am at your service.. 'At your service' is a one-on-one performance experienced with your eyes closed.  You are invited to choose a … Read more
Credits
Concept and performance: Aharona Israel
Premiered at SUMMERWORKS festival Toronto on 2013
Now days in a renewed post Covid-19 version 2021
The work was made possible with the support of:
The Arts Department, Tel Aviv-Yafo Municipality
Yehoshua Rabinovich Foundation for the Arts, Tel Aviv
The Israeli Ministry of art and culture
Choreographers NPO
Project Video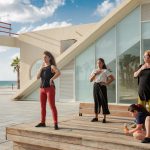 Lorem ipsum dolor sit amet, consectetur adipiscing elit, sed do eiusmod tempor incididunt ut labore et dolore magna aliqua
Credits
Choreography: Aharona Israel  l Duration: 33 minutes
Text: Maayan Yohanan-Shohet with Aharona Israel  l Costumes & Stage design: Liya Hozeh
Dance and Performance by the Yohanan Family: Vicky Yohanan, Maayan Yohanan-Shohet, Omer Yohanan, Gal Rozen
Photography: Yoav Pelli / Adam Weingrod
'Family' premiered at  the Bat Yam Festival with artistic guidance by Nataly Zukerman, Yoav Bartel, Roey Gormezano and Yogi Dekel. The work was supported by the Bat Yam Festival, the Bat Yam Municipality and the Factory Residency.
Inspired by Porch View Dances by Kaeja d'Dance.
A choreographic performance for one female body, two eyes and fabric. In Proportions,' the performer is completely covered in a large fabric. The inspiration for … Read more
Credits
Choreography, Performance, text and sound editing  by Aharona Israel
Costume: Melanie Lombard  l Duration: 25-27 minutes
Photography: Gili Chen, Eli Katz, David Kaplan
Premiered at 'Intimadance festival' with the support of Tmuna theater. The work was supported by residency at 'Re-Serach' Natanya and at 'Stage Center' Tel-aviv. Performed in different venues and theatres in Israel among them Jerusalem dance serie in Mazie theatre and 'Fresh paint Fair '19' Tel aviv.
'Proportions' was invited to 'Altofest' festival in Naples Italy on July 2019.
Project Video